While an MOT will make sure your car is roadworthy, servicing it will make sure the car will keep functioning. There are a lot of things that can happen to a car over the course of a year and without annual car servicing, this could lead to costly repairs and maybe the need to replace the vehicle.
With Eclipse Autos Car Servicing in Bletchley, Milton Keynes, we promise to complete a full service to make sure your vehicle is in the best working order.
High Quality Servicing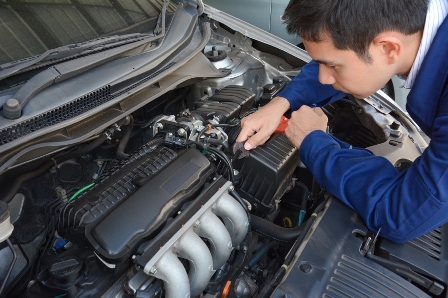 Many of the problems cars face go undiagnosed until it is too late. This is why an annual service is so important. We check the electrics, the spark plugs and the oil levels, as well as other areas, to make sure there are no problems. If there is, it is caught quickly and repaired or replaced. Keep the costs of your car maintenance down with Eclipse Autos car servicing in Bletchley, Milton Keynes.
Our vehicle servicing is performed by fully qualified technicians, who know how important it is to have a roadworthy and safe car.
Affordable Car Servicing
Our vehicle servicing options are affordable for all, whether you need your car or a van serviced. If anything needs replacing or repairing, we always ensure we do so at an affordable rate. We only use the highest quality manufacturers for replacements so you get the best value for your money. It doesn't make sense to continually replace inferior parts so we ensure only the finest replacement components are fitted to vehicles we service and repair.
Along with offering affordable, high quality car servicing, all of our replacement components and the work we carry out are guaranteed. If you have any other problems, come back to Eclipse Autos Car Servicing and we will do everything we can to ensure you leave delighted.
Eclipse Autos car servicing offers quality workmanship and a friendly service. When you need car servicing in Bletchley, you can trust us to make sure your vehicle is ready for long journeys and will continue to perform reliably.
We offer affordable, practical advice and will only replace the components that need replacing. All of our work is guaranteed, along with the parts we supply.
Exclusions: Titianium & Irridium Plugs, Special or High Cost Oils, Bulbs, Pollen Filters. V6 & V8 Engines, 6 Cylinder Inline Engines. Main Dealer Parts. Wipers. Difficult To Replace Pollen Filters or Bulbs
Service (Bronze)
Includes
Oil Filter, Top Ups, 5w 30 fully Synthetic Engine Oil up to 4ltrs
Excludes
Specialist Engine Oils, Dealer Only Parts, engines over 2.5ltr
From £109.00 inc VAT
Service & MOT (Silver)
Includes:
5w30 fully synthetic up to 4ltrs, Oil Filter, Air Filter, Headlight Aim, Air Conditioning Operation Check, Brake Efficiency Check & Light Checks
Excludes:
Titanium or iridium spark plugs, pollen filter, special engine oils, fuel filter, Engine Oil above 4ltrs, Engines With More than 4 Spark Plugs or Cylinder, Engines Over 2.5ltr.
From £149.00 inc VAT
Service & MOT (Gold)
Full Service to main dealer standards
Includes: 5w30 fully synthetic oil up to 4lts, oil filter, air filter, Standard plugs, Fuel Filter diesel or petrol, Windscreen Wipers (non Aero). Bulbs & Headlight Aim if required.
Excludes: Specialist & high Cost Oils, Titanium & Iridium Spark Plugs, Pollen Filters, Vehicles With More Than 4 Cylinder or Plugs, engines over 2.5ltr.
From £199.00 inc
Service & MOT (Platinum)
Includes: ...
Excludes: ...
From £199.00 inc